Back to all posts
Posted on
School Office Closed for the Summer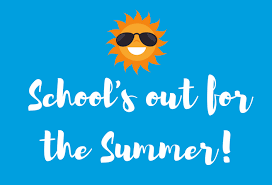 School's out for Summer Break. The Office will be closed July 1st - August 26th (inclusive) and will be open for any assistance you may require on August 27th, 30th & 31st - 9:00 AM - 3:30 PM.  Messages received during the Summer Break will be returned at that time.
Make sure you check out the school website for any future updates or need to know dates.  All pertinent calendars, school supply lists and registration information is posted on our school website at this time. Subscribe to our school calendar so you don't miss anything and check out the monthly calendar of events blogs.
New information will be continually posted regarding school opening procedures and what to expect prior to school starting for students on September 1st. As well, parents may receive a "Power Announcement" from WCPS and RES.
Enjoy your Break!!
Back to School Info 2021-2022 Blog Link
Staggered September Entry - posted on the school calendar and blog will be posted in August.