Back to all posts
Posted on
New Student Registration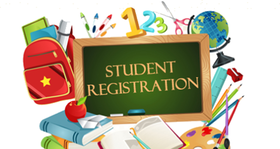 Wolf Creek School Division's student registration forms are only available for completion online (no paper copies available) through the link below.  Please note that only a child's legal Parent/Guardian, with whom the student resides, is able to complete and submit the registration application.  All required legal documentation must be included in the application prior to submission to the school. Registration is accepted and approved by RE Administration once all proper legal documentation and information has been uploaded with the application. Legal documentation refers to a copy of an original birth certificate and if applicable: proof of citizenship, custody or guardianship orders and foreign student and parent documentation. The birth certificate and all applicable documents. 
Please make sure that you select the correct school year as new student registrations for more than one school year use the same link, only the "school year" changes.  All required links below.
Students are not considered "registered" or placed on a class list until proof of birth date/citizenship and any other required documentation is produced and uploaded with the online application. Students must reside in the Rimbey Elementary School catchment attendance area. Please note that catchment areas for Wolf Creek Public Schools begin with Kindergarten and must be approved each year.
If you need to order your child's birth certificate click on the link to Alberta Services. 
Kindergarten programs are part time and run for full days on Monday/Wednesday/alternating Fridays and Tuesday/Thursday/alternating Fridays.  Parents may request their preference for either the Monday/Wednesday or Tuesday/Thursday program, however due to programming needs and number of students registered we are unable to guarantee parent choice.  To assist us with programming and planning for each new school year, we request that parents register their eligible child prior to the end of current school term for attendance in September.  This will help us to determine if we need to add an additional kindergarten class due to numbers. Too few kindergarten registrations may determine that only one program day choice will be offered in September. 
Should you require assistance or have questions please contact the school office - 403-843-3751 or res@wolfcreek.ab.ca.
 Note: Make sure you select the correct year.
School Engage Parent - New Student Registration User Guide (link)
New Student Registration Pre K & - K - 6 (select correct school term)  and then select "Create Account"
 PRE-KINDERGARTEN: Bright Futures Play Academy
Wolf Creek Public Schools offers early learning programming for children ages 3 and 4 years. All children are welcome as we have programs for children to learn together in an inclusive setting.
Bright Futures Play Academy - Information link
Rural School Bus Students
Online Registration for bus applications is now open.
Students who live in the country and are new to rural busing OR have moved to a new rural location are required to register for transportation. All rural kindergarten students must be registered to ride the bus. Your full legal land description AND complete blue sign (911 address) are required to register.
Unsure of which school your child should attend? Please call transportation department with your legal land description.
If you have moved you must notify the school of the address change prior to registering for busing. *Cross boundary students must re-apply for busing each year by filling out the regular application as well as the cross boundary form if applicable. (cross boundary fees will apply). Cross boundary students must receive school administration approval each year to attend "School of Choice", forms will also be required to be completed and approved each year.
All rural kindergarten students must be registered to ride the bus.
For more information please contact Wolf Creek Public Schools Transportation Services
E-mail - transportation@wolfcreek.ab.ca
Phone - 403-785-0726  (Direct)  or  403-341-4153 (Red Deer) or 403-782-8726 (Lacombe) ext. 1332
Website - https://www.wolfcreek.ab.ca/services/transportation