Back to all posts
Posted on
CO-OP BBQ & Donation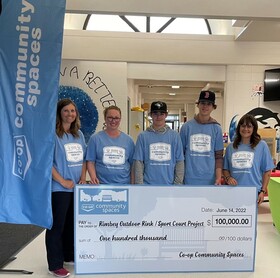 HUGE thank you to #evergreencoop for the $100,000 donation to our Outdoor Rink & Sport Court project!
https://www.facebook.com/watch/?v=759264861875088
This will be added to the $98,000 grant we received in November from the Government.
This made it possible to bring the court to the next level. We will be pouring concrete this summer and over top of it will be a Sport Court flooring with lines and a surface that doesn't hurt as much when we fall. There will be 4 basketball nets, one basketball court with lines, 3 pickleball courts (with nets) and four square and hopscotch lines.
BIG thank you to Parent Council for paying for the BBQ today and feeding all our students & staff!  
Thank you to Midwest Propane for the BBQ usage!
A special thank you to Allison, Kirsten, Kathleen Hull-Beagle, Reed & Tavish who have put so much work into making the new rink/sport court a reality!