Back to all posts
Posted on
September Calendar of Events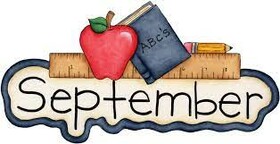 RES monthly blogs take the place of a monthly newsletter to ensure that information is kept current and up to date.
Wolf Creek Public Schools Administrative Policy & Procedures
We may also send home a "Power Announcement" to highlight important and/or special events at the school.  Should you "unsubscribe" to these notifications you will not receive any further non emergent "Power Announcements", until the alert preferences settings have been "enabled" or "subscribed" to again by the Parent.
Parent Portal - Changing Your Alert Preferences
The following is a list of the student school wide confirmed September 2021 events at RES.  This list may change as events are added or changed and/or deleted and so we encourage you to check back to this post often. As well, all events and changes will be posted on our school calendar, and RES Facebook and Twitter pages. Individual classroom teachers may have other activities planned that are not posted. Please note that as dates expire each week the information will be placed at the bottom of the list so that the current applicable dates and information are available to you.
Alberta Education requires an annual Student Registration or Demographic Update Form, for every student, signed by the Parent or Legal Guardian to verify that the student qualifies for Provincial or National Education funding. The Demographic Update form serves as an annual registration form for all returning WCPS K-12 students. If you have not completed this form, please do so at your earliest convenience. The form can be found in your Parent Portal.  If you are having issues submitting the form, accessing your Parent Portal account or require access to a device to complete this form, please contact your child's school office. Online Student Demographic Update forms are due Sept. 1, 2021.
Sept. 1 - Please make sure that you have completed the Student Demographic Update information - located in your Parent Portal - prior to the first day - Sept. 1st. This is your child's "registration" that verifies your child's attendance at RES.
Sept. 14 - School Council - Annual General Meeting and Regular Meeting @ 5:00 PM.  We encourage all parents to attend School Council meetings.   
Sept. 17 - No School for Students - Staff Collaboration Day.
Sept. 29 - National Terry Fox School Run Day - please note that we will be doing ALL fundraising online - check out our Terry Fox blog with this link. Students will not be bringing home any pledge sheets. Last year our school collected $1030.00 for Cancer research. Thank you so much for all that contributed.
Sept. 30 - Orange Shirt Day - https://www.orangeshirtday.org/about-us.html
Orange Shirt Day is a legacy of the St. Joseph Mission (SJM) Residential School (1891-1981) Commemoration Project and Reunion events that took place in Williams Lake, BC, Canada, in May 2013. The annual Orange Shirt Day on September 30th opens the door to global conversation on all aspects of Residential Schools. It is an opportunity to create meaningful discussion about the effects of Residential Schools and the legacy they have left behind.  A discussion all Canadians can tune into and create bridges with each other for reconciliation.  A day for survivors to be reaffirmed that they matter, and so do those that have been affected.  Every Child Matters, even if they are an adult, from now on. 
Oct. 1 - October Calendar of Events posted.
ADDITIONAL PARENT INFORMATION:
Chromebook Parent Purchase Program (click here for more information)
RES student fees will be applied by September 3rd to your Parent Portal Account and are due at that time. These fees include, but are not limited to, the cost of the magnet (1 per family) and student agenda for our grades 1 - 6 students distributed on the first day of classes. Ongoing throughout the school year a technology user fee and partial cost of cultural events (in person and virtual) for all students, all grades, as well as additional programming materials. Parents/guardians are able to view, as well as pay all outstanding school fees through the online payment portal - RYCOR - which is accessible through your Parent Portal Account.
All fees including extra curricular (hot lunches, etc.) are required to be paid online through Parent Portal/RYCOR. Required fees must be paid prior to optional or extra-curricular events being available.  All outstanding fees from previous years remain on student account until paid in full. This includes students that move on/transfer to another Wolf Creek Public School.
New Student Registrations for the 2021-2022 School Term Link
School Engage Parent - New Student Registration User Guide (link)
WCPS Transportation Department:
Wolf Creek is accepting busing registrations for the 2021/22 school year. If you have moved, you must notify the school of the address change PRIOR to registering for busing. All students who WERE NOT attending in-school classes or who were not riding the bus during the 2020-2021 school year were removed from the transportation system and therefore must register to ride in September 2021. As well, all "cross-boundary" applications must be approved each year. Please allow 3 - 5 business days for processing of busing applications.
 https://www.wolfcreek.ab.ca/.../transpor.../bus-status-page2 
Make sure you register online through School Engage.